Paige E. Roberts
LICSWA, LSW, BSPIII + Certified Light Therapist
My mission is to assist any current or retired athlete in realizing, reaching or regaining their goals in sports and in life!
Paige is a sports and fitness enthusiast. She uses sports psychology, brainspotting, and hot & cold photobiomodulation laser healing to provide sports injury intensive recovery sessions, and sports and life performance coaching. Her current practice combines a variety of techniques including clinical social work, exercise and neuroscience, and health and wellness lifestyle coaching. Paige is available to work with clients both locally in the Seattle region, and globally via long distance sessions. She is currently assisting athletes all over the world in reaching their full sports and life performance potential!
Paige has a B.A. in Human Performance and Wellness with an Emphasis in Exercise Science from Colorado Mesa University, and a Masters of Social Work from Colorado State University. While at CMU she ran NCAA cross country and she continues to compete in local mid-distance running competitions. She has worked as an athletic trainer in an intercollegiate athletic training room, as a personal trainer within multiple fitness clubs, and as a youth sports instructor and coach. Paige has also worked in non-profit administration, a social welfare program director, and a welfare case management technician.



She is member of the Gamma Beta Phi National Collegiate Honor Society through the CSU Food Science and Nutrition Department and the CSU School of Social Work Phi Alpha Chapter: Theta Pi National Collegiate Honor Society. Paige is a Licensed Social Worker in the State of Colorado and Washington. She is a member of Brainspotting International, holds all three levels of certification in Brainspotting, and a Masters Certificate in Brainspotting. She is trained in effective communication tactics and conflict resolution as a mediator. In addition, Paige is a member of The American Academy of Neurology and an ambassador for the Concussion Legacy Foundation, and volunteers with the Sick Not Weak Initiative. Paige also has NASM training as a Sports Performance Expansion Specialist, Cognitive Corrective Exercise Specialist, and training in Trigger Point and Self Myo-fascial Release Techniques.
Nina Cook, BA Neuroscience Technician
Nina is passionate about the interactions between our minds and bodies. She holds a B.A. in Behavioral Neuroscience and Geography from Colgate University. During her studies, Nina's research focused on appreciating the interplay between the cultural, social, and environmental factors that contribute to overall health status. Nina has worked and volunteered in numerous fields of healthcare, spanning from midwifery to hospice, noticing the need for more whole-person-care throughout. She plans to obtain her Masters in Public Health with the goal of bridging the gap between scientific expertise and the broader public, making health knowledge more accessible in order to empower the individual. Nina also hopes to obtain a degree in Naturopathic Medicine, enabling her to teach and provide her clients with the tools of wellbeing in order to live their fullest lives.
"90% of sports performance is mental"
-Kay Porter PhD
Santiago Brand Ortiz
*Is a provider for 10 Day Intensives only

I started my career in the field of sport psychology in 2002 when an athlete I was working with attempted suicide. It was then when I realized that studying clinical psychology would also be extremely important in order to better serve and understand the athlete´s mental health dynamics.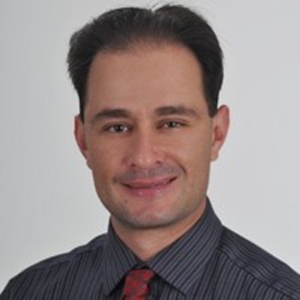 In 2003 while working at the Biomedical Center for Sports Services in Bogotá, Colombia I started noticing that written tests, interviews and assessments did not provide enough evidence of the underlying processes that dictate why some athletes are more successful than others or why all of a sudden they are hit with performance slumps. That same year, I started a quest to find ways to demonstrate with more concrete evidence what happens in the athletes' mind and body and how this processes influence performance. It was in 2004 when I "stumbled" upon neurofeedback and biofeedback when a colleague did a talk on the subjects and I immediately knew that there lied the answer to all the questions I had in my mind.
For the next three years I educated myself on the topics reading and learning as much as I could on the subjects, doing online research and talking to other professionals who had been using the techniques for years. In 2008 resigned to my position and traveled to the United States to physically learn biofeedback and neurofeedback. I took the first training in Fort Lauderdale, Florida through The Stens Corporation. While at that workshop, I met a clinician who as re-opening her clinic and started doing practicum hours at Central Florida Neuropsychology. After 3 weeks I was offered a position as biofeedback and neurofeedback assistant and worked there for 2 years with diverse populations with ADD/ADHD, chronic pain, anxiety, depression, PTSD, trauma and many others. I also recorded qEEGs (Brain Maps). After two years I resigned and returned to Bogotá in 2010 where I started my own business Brand Neurofeedback where I do qEEG (brain mapping) assessment and interpretation, biofeedback and neurofeedback training for diverse conditions such as epilepsy, ADD/ADHD, anxiety, depression, sleep disorders, trauma, learning and academic disabilities and many others.
I also provide QEEG assessments and neurofeedback training for professional athletes in golf, soccer, motocross, BMX, tennis among other sports. In 2014 I was contacted by Coldeportes and the Colombian Olympic Committee to work in helping them develop the neuroscience lab. My duties involved providing qEEG assessment for athletes from Colombia, Paraguay, Chile, Brazil and other countries, develop neurofeedback and biofeedback training protocols for conventional and Paralympic athletes and perform psychophysiological stress profiles.
I also developed interdisciplinary intervention protocols with nutrition and injury rehabilitation with physical therapy using EMG and temperature biofeedback, as well as audio visual entrainment and cranial-electro-stimulation.
I also specialize in the field of trauma and Brainspotting which I have been utilizing for the past two years. In the present day I am also a neurofeedback and biofeedback trainer, consultant and lecturer. I have trained and consulted for people from The United States, Spain, Germany, Costa Rica, Colombia, Brazil, Ecuador and Chile and have been hired to train and lecture in Chile, Brazil, Mexico, Guatemala and Ecuador. I am currently a consultant for the Guatemalan Olympic Committee and North Technical University in Ecuador. I am also a researcher for BrainSpotting International studying changes in the EEG and psychophysiological responses to trauma and trauma treatment.
We work with the very best to deliver you a tailored, whole-body training program. We are proud to be a part of your team when you need us.